China Coal Group Is Selected Into The List Of Typical Application Scenarios Of '5g+ Industrial Internet' In Jining
Time: 2022-11-16 View:351 Table: China Coal News Honor
China Coal Group Is Selected Into The List Of Typical Application Scenarios Of '5g+ Industrial Internet' In Jining
In order to implement the spirit of the document "A hundred cities and a thousand Stations" in-depth coverage of 5G in Shandong Province and the scale application of "a hundred enterprises and a thousand Cases" Action Plan 2022 "(LuC Federation of Industry and Information Technology (No. 2022) 62), promote enterprises to use cloud platforms, and promote the integrated development of 5G technology and industrial Internet, recently, Jining Industry and Information Technology Bureau released a list of typical application scenarios of 5G+ industrial Internet in Jining, and China Coal Group's Yikuang Cloud industrial Internet platform based on 5G technology is successfully selected.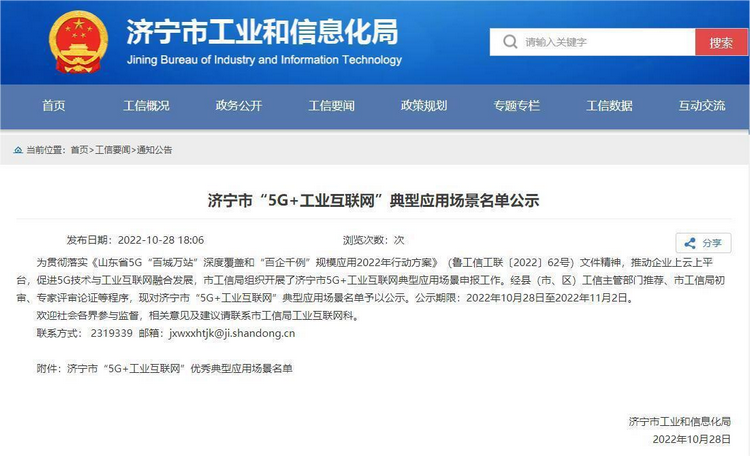 In recent years, a new round of scientific and technological revolution and industrial transformation has gained momentum, and the construction of 5G, industrial Internet, big data centers and other new infrastructure has accelerated, increasingly becoming a key driver to support the digital, networked and intelligent transformation and upgrading of the real economy. As the ministry of industry and manufacturing double gen platform enterprises, the ministry of industry and large data of typical cases, Ministry of Science and Technology innovation of outstanding enterprises in shandong province, 5 g pilot demonstration enterprises, the group has deployed the EDI, ERP, OA, PLM, MES, WMS, SRM, such as business systems, and implements the integration of research and development design, production, business operation, It has formed a complete set of lean information integrated innovation mode that supports the whole manufacturing process of products, including R&D and design, order access, planning and scheduling, production execution, quality control, logistics coordination, equipment control, warehousing and shipping, etc.
The foundation for the exploration and application of 5G+ industrial Internet is the soft power constructed by the achievements and experience of digital construction of China Coal Group. Group based on the technology of 5 g ore cloud industrial Internet platform, the artificial intelligence, Internet of things, cloud computing, big data, edge computing emerging technologies such as deep integration, form a cloud, mesh, edge, the whole chain, from the production of peripheral link gradually extended to research and development design, production, quality inspection, fault operations, logistics, transportation, safety management, and other core link, Ten typical application scenarios, including collaborative R&D design, remote equipment control, equipment collaborative operation, flexible production and manufacturing, on-site auxiliary assembly, machine vision quality inspection, equipment fault diagnosis, intelligent factory logistics, unmanned intelligent inspection, and production site monitoring, have been cultivated to help enterprises reduce costs and improve quality and production safety.
The successful typical application scenario in jining city 5 g + industrial Internet list, marked the digitalization of China Coal Group ascension job won the all-around development and promotion, the next step, China Coal Group will continue to implement the national, provincial, municipal guidelines, policies and implementation about digital work file spirit, efforts on research and development strength, Accelerate the promotion of 5G+ industrial Internet application innovation and industrial incubation, and actively give play to the demonstration and leading effect, boost the intelligent transformation and digital transformation of manufacturing enterprises, and open a new chapter for the development of the digital economy of the province and even the whole country.